Following the Trail of Anya Seton's Green Darkness
Ask a fan of historical fiction for a list of favorite books and, almost inevitably, one by Anya Seton will be somewhere on the list. Green Darkness and Katherine are definitely near the top of my own list.
I read Green Darkness as a teenager and never thought of it as anything other than fiction until I was planning a trip to England in 1993 and learned that many of the places in the book exist and can still be visited.
The Story
The story begins with Celia -- a young American woman, recently married to an English baronet who has feelings of deja vu when she visits certain places. After a disturbing incident with her new husband, she is cast into a physical state in which she relives a previous existence in 16th Century England.
There is danger for Celia in both her current physical state as well as the unresolved difficulties of her previous life, and in both lives, there is a somewhat knowledgeable and sympathetic character who tries to help her.
The Spread Eagle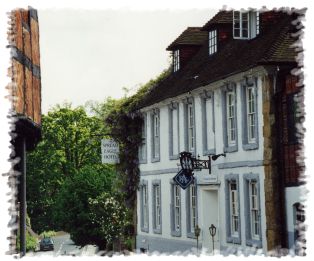 A view of the Spread Eagle
My first realization that the places in Green Darkness were not fiction came when I was making hotel reservations and ran across a listing for the Spread Eagle hotel in Midhurst. Though it had been nearly 20 years since I'd read the book, the hotel name caught my eye. In her past life, the character of Celia had worked as a tavern maid at the Spread Eagle in Midhurst.
The hotel brochure said the hotel had been around since the 15th century. It was in the right place -- so I made reservations to spend a night there (I was going to be in Sussex anyway, or so I told myself), though I wasn't really sure it was the same place. There was no World Wide Web to check things easily in 1993!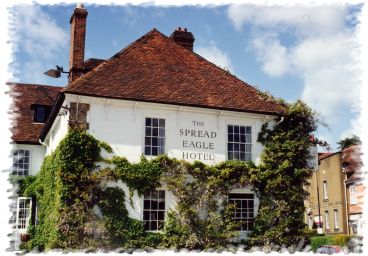 Another view of the Spread Eagle
The hotel itself was wonderful. They say they have been serving travelers as a coaching inn since 1430 and I can believe it. We had a room on the top floor in the oldest part of the hotel, with a low beamed ceiling and casement windows looking out over a bank of roses. We had breakfast in the restaurant, which has an immense fireplace and what (I think) were some sort of puddings hanging from the ceiling.
And it was, indeed, the same Spread Eagle as the one in Green Darkness. Even better, Cowdray House, Celia's later home, was just down the road!
Cowdray House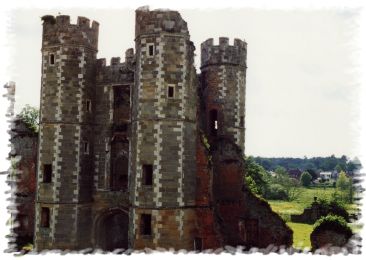 The ruins of Cowdray House
Cowdray House is now in ruins, but there is enough left to imagine the place as it must have been when it was owned by Sir Anthony Browne, the first Viscount Montague -- another character in Green Darkness.
The ruins are haunting and evocative and it's easy to see how they may have inspired Anya Seton when she wrote Green Darkness -- especially the legend of Viscount Montague's curse.
Nigel Sadler has written a detailed history and description of Cowdray House and if you are interested in the place, his website is well worth a visit.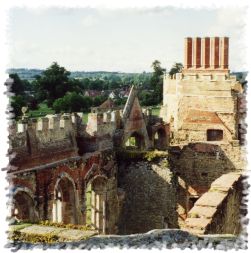 Cowdray House from atop the walls
There are numerous other places from the novel that you can visit, but Ightham Mote, the final home of the medieval Celia, is probably the most intriguiging. It is a medieval moated manor house, now owned by the National Trust.
Ightham Mote does indeed have a ghost story -- the body of a woman discovered in a walled up room--just as the story is presented in Green Darkness. The woman is thought to have been Dame Dorothy Selby whose misdirected warning letter alerted Parliament to the Gunpowder Plot.
I did not get to visit Ightham Mote when I was there, but it makes a good excuse for another trip to the area. (As if I needed one!) All in all, the short time I spent in Midhurst was one of the unexpected highlights from my first trip to England; I definitely intend to visit again!
Resources
The Spread Eagle Hotel website
Cowdray House - Detailed information by Nigel Sadler
The Heritage Trail: Ightham Mote
National Trust site for Ightham Mote
Biography of Anya Seton and her family - Lucinda MacKethin and North Carolina State University